If your eyes frequently burn, sting, or feel tired, you likely have dry eyes. There may be several reasons you have dry eyes, such as certain medical conditions, computer use, or age. You may not know it, but eyelid hygiene can affect your eye health.
Continue reading to learn more about dry eye, including how eyelid hygiene can improve your symptoms.
What Is Dry Eye Disease?
Dry eye disease is a common condition that affects nearly 6 million Canadians. This condition occurs when issues arise in one of the layers of your tear film. When the layers of your tear film have issues, it can lead to several uncomfortable symptoms, including:
Eyes that sting or burn
Stringy mucus around the eyes
Light sensitivity
Eye redness
Foreign object sensation
Difficulty wearing contact lenses
Watery eyes
Blurred vision
Eye fatigue
What Causes Dry Eyes?
Dry eye disease is a multifactorial condition and can have several possible causes. In general, dry eyes happen because of tear film instability. The cause of this instability is typically due to decreased tear production or increased tear evaporation.
Possible causes of dry eyes include:
Age
Blepharitis
Environmental factors
Hormonal changes
Certain medications
Certain medical conditions
Dry eyes lead to inflammation and damage to your eye's surface. Your tear film works alongside your eyelid to protect your eye's surface, helping spread tears and release oil that prevents tear evaporation. When there are issues with your eyelid, it can affect your tear film's functionality.
One of the ways you can soothe dry eye symptoms and prevent future irritation is with proper eyelid hygiene.
How Can Eyelid Hygiene Improve Dry Eye Disease?
Your eyelids help protect your eyes every day—sweeping away debris and spreading tears across the eye's surface. Your eyelashes assist in this protection, preventing water, dust, and other matter from entering your eyes. Because of the amount of material your eyelids and lashes catch, eyelid hygiene is essential for preventing potential complications.
Washing around your eyes can seem like it's insignificant, but debris can become trapped under the eyelid if unaddressed. Your eyelid can become inflamed, irritated, or infected. Poor eyelid hygiene can lead to different eye conditions, such as:
While your eyes may be dry for several reasons, eyelid hygiene can help improve this condition. Proper hygiene can prevent or improve the symptoms of meibomian gland dysfunction, blepharitis, and dry eyes.
Warm Compresses
Warm compresses work best when paired with other eyelid hygiene products like wipes and scrubs. They warm your eyelids to soften the blockages in your meibomian glands and loosen crust and debris on your lashes. A warm compress before using an eyelid wipe can help you express more oil and improve your dry eye symptoms. We've come a long way from the days of using hot towels which don't maintain the required heat for the specified time as well as regular heat masks. Options may include:
upgrading your heat mask
Omega 3 supplementation (note not all omega 3 supplements are created equally effective for dry eye disease)
Mibo Thermoflo therapy
Radiofrequency (RF)
Intense Pulsed Light (IPL) therapy
See one of the eye doctors at Foresee Eyecare for the latest options in treating Meibomian glands that are specific to your individual needs.
Cleaning your eyelids can help soothe inflammation and wash away bacteria, oils, and crusts along your lash line. When paired with other hygiene products like warm compresses, you can improve the functionality of your tear film, reducing your symptoms.
Eyelid Hygiene Products
Eyelid cleaning products can include scrubs, wipes, and compresses to help remove blocked oils and other debris. Many hygiene products are available today, and your eye doctor can recommend an effective eyelid cleanser.
Eyelid Wipes
Eyelid wipes can help remove crusts and debris around your eyelids and lashes. Removing these materials reduces the risk of infections. Besides cleaning your eyelids, wipes help express oil from your meibomian glands, improving stability in the tear film.
Some types of eyelid wipes include:
Blephadex Eyelid Wipes: These wipes use a blend of tea tree & coconut oil to help cleanse, soothe, & moisturize your eyelids
Blephaclean® Eyelid Hygiene Wipes: These wipes are preservative-free & can help remove bacteria & reduce symptoms of blepharitis, dry eyes, & meibomian gland dysfunction
Cliradex is a brand of hygiene product that helps remove unwanted debris and material from your eyelids. It can help relieve symptoms of several eye conditions that irritate your eyes.
These eyelid hygiene products can help improve dry eyes, but how can you effectively clean your eyelids?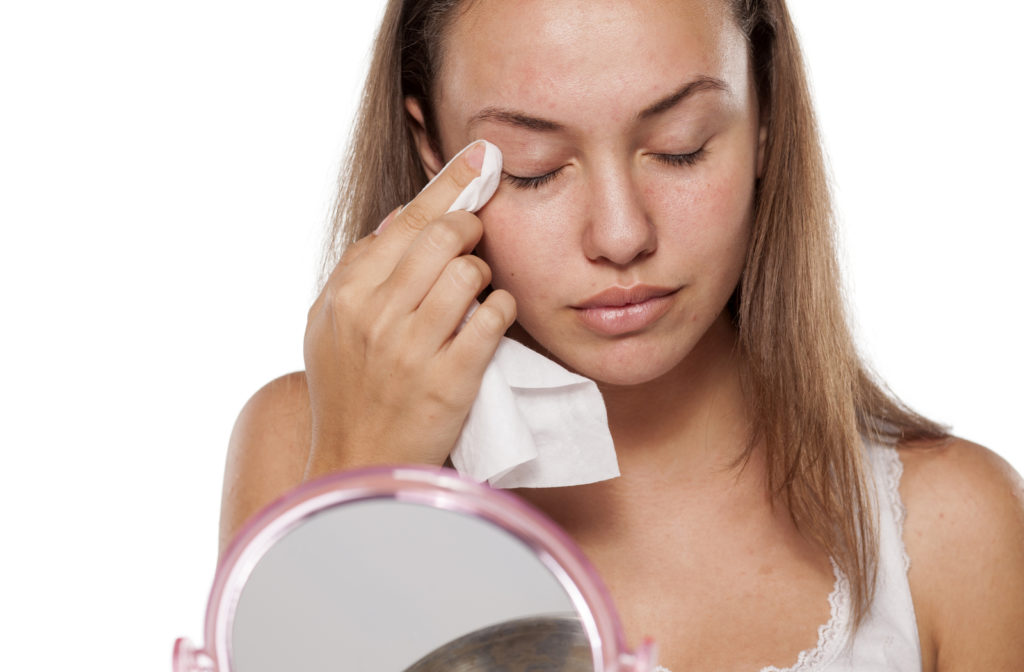 How to Clean Your Eyelids
If you're practicing good eyelid hygiene, here's how you can effectively use your cleansing wipes or scrubs:
Wash your hands well before touching any products
Use a warm compress on your eyelids for approximately 2 minutes to loosen oil & debris along your lashes
Close your eyes & gently wipe the cleaning product along your upper & lower eyelid—make sure to use a different wipe or pad for each eye
Rinse your eyelids with water & pat them dry with a clean towel
Following these instructions can help you clean your eyelids without risking additional bacteria exposure. If you have any questions about eyelid hygiene or how to use these products, speaking with your optometrist can help.
Improve Your Dry Eye Symptoms
Dry eye disease can be irritating and affect your quality of life. However, with effective eyelid hygiene, you can improve your symptoms. There are different products you can use to remove debris and ease inflammation.
If dry eye symptoms persist, your eye doctor can recommend other treatments, such as IPL, radiofrequency, and more. Contact your optometrist if you have dry eye symptoms, and they can help you find relief.