Orthokeratology is a simple, unintrusive, and effective method of treating myopia as well as being free of contact lenses and glasses during waking hours. By using special contact lenses overnight, the orthokeratology treatment process is able to temporarily reshape the cornea of your eye and mitigate the effects of myopia by refracting light properly onto your retina.
If you don't want to be burdened with having to wear corrective eyeglasses or contact lenses every day and do not have a serious enough condition to warrant surgery, orthokeratology can be a great option for effectively dealing with myopia. Contact Foresee Eyecare today to book an appointment and see if you are a good candidate for orthokeratology treatment.
What is Orthokeratology?
Orthokeratology, or ortho-k, is a treatment process aimed at correcting the effects of myopia by using special contact lenses to temporarily morph and shape the cornea. These special contact lenses are to be worn overnight so they can reduce refraction issues during the day without the use of eyeglasses or contact lenses.
Orthokeratology is an effective way to treat myopia without having to deal with the intrusive nature of surgery or the daily habit of wearing glasses or contacts. It is important to remember that orthokeratology treatment is not permanent, and requires diligence to achieve the desired results of the treatment. The contact lenses involved in this treatment must be worn on a consistent schedule to keep the cornea shaped correctly.
If orthokeratology does not seem like the right solution for your needs, myopia can also be corrected by things like eyeglasses, regular contact lenses, LASIK surgery, or PRK surgery.
How Orthokeratology Works
Your cornea is a window into your eye that focuses light onto your retina; if the cornea does not refract light onto the retina properly and instead refracts light to focus in front of your retina, you will experience myopia. Orthokeratology aims to temporarily reshape your cornea to refract light so it focuses onto the retina properly.
The orthokeratology treatment process begins with your eye doctor mapping the surface of your cornea with a special piece of equipment called a corneal topographer. This machine will help your doctor create a detailed image of your cornea which will guide the process of creating your specialized contact lenses. The corneal topographer uses reflected light to discern the detailed shapes and curves of your cornea.
After mapping your cornea, your special contact lenses are created and are ready to be used. The lenses work by flattening the center of your cornea and changing the way that light refracts through your eyes overnight. The lenses are rigid enough to change the shape of your cornea temporarily but also still allow oxygen to permeate through and keep your eyes healthy.
Once the lens has been worn overnight, it can be removed during the day and you can experience myopia correction without having to wear eyeglasses or contact lenses. Make sure to stay diligent in your schedule of wearing your special lenses; if you refrain from wearing them, the results garnered from orthokeratology can disappear and you can go back to a myopic state.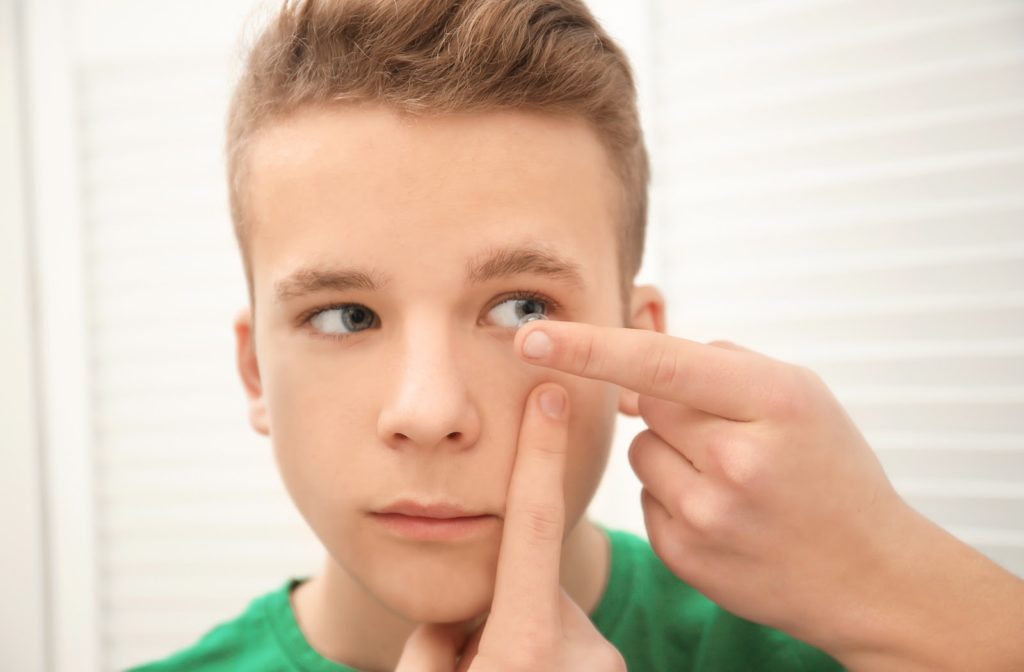 The Results of Using Orthokeratology
Results from using orthokeratology treatment can vary based on the patient; for some, it can take up to two weeks or a bit longer to attain the maximum myopia correction from following the treatment plan. For others, it can take only a few days to notice significant results.
It may take a while to discern the proper prescription you need to correct your condition with myopia — having to go through multiple different orthokeratology contact lenses to find the right prescription is common. Usually, up to 3 pairs of lenses are used at the beginning of orthokeratology treatments. Once you reach the last prescription in the series, that specific contact lens' prescription will remain the one that you wear overnight to retain the current shape of your cornea.
Who Benefits the Most From Orthokeratology?
People with mild to moderate myopia or astigmatism can find relief and visual correction by using orthokeratology treatment. Very little risk is involved during this treatment process, making it a good option for people who want to avoid surgery, do not want to wear correctional eyewear, or do not want to commit to a rigorous or invasive treatment process.
Children, young adults, and others who cannot receive LASIK surgery due to being too young or suffering from other eye complications can also benefit from the temporary vision correction provided by orthokeratology.
How Much Does Orthokeratology Cost?
Orthokeratology is generally an elective treatment process — there exist many other (often cheaper) treatments for myopia, like corrective eyeglasses for example. The cost of orthokeratology can vary significantly depending on the severity and type of refractive error that a patient is dealing with. Prices of orthokeratology treatments typically range from $1,250 to $5,000 in Canada. Patients may also check their insurances as some cover partial or full treatment costs.
If you are potentially considering orthokeratology as a treatment method to help correct your problems with myopia, trust a certified and reputable source. The doctors at Foresee Eyecare use the latest topography technologies and custom lenses along with their expertise to fit and train our orthokeratology patients.