If you wear contacts, you may have experienced dry, uncomfortable eyes at some point. This is a common problem among contact lens wearers, and it can range from mild irritation to severe discomfort. So, why do contacts sometimes dry out your eyes, and what can you do about it?
Contact lenses can interfere with the tear quality & quantity in your eyes, which can lead to them drying out. Thankfully, there are ways to keep your eyes moisturized and comfortable with the help of artificial tears, proper contact lens care, and the right contact lenses for your eyes.
Why Are Contacts Drying Out My Eyes?
One reason why contacts can dry out your eyes is that they can interfere with the normal production and distribution of tears. Tears are essential for maintaining the health of your eyes and providing lubrication to keep them comfortable.
When you wear contacts, the lenses can absorb some of the moisture in your tears, leading to dryness and irritation. Additionally, you may be at an increased risk of developing dry eye, depending on your age, gender, and several other medical and environmental factors.
What Is Dry Eye Disease?
Dry eye disease, commonly referred to as dry eye, is a condition where the eyes don't produce enough tears, or the tears that are produced are of poor quality. There are 2 main types of dry eye disease:
Aqueous tear-deficient dry eye
Evaporative dry eye
Aqueous tear-deficient dry eye is caused by a decreased production of tears, while evaporative dry eye is caused by an inadequate lipid layer in the tears, which can lead to tear evaporation and dryness.
Symptoms of dry eye disease can include:
Dryness
Redness
Irritation
Burning
Stinging
Blurred vision
Sensitivity to light
A feeling of something in the eye
These symptoms can range from mild to severe and can vary over time. Dry eye disease can be caused by a variety of factors, including aging, certain medications, hormonal changes, medical conditions, and environmental factors.
If you think you may be experiencing symptoms of dry eye disease, it's important to see your eye doctor for an evaluation and proper diagnosis. Your doctor can recommend a treatment plan for your specific condition.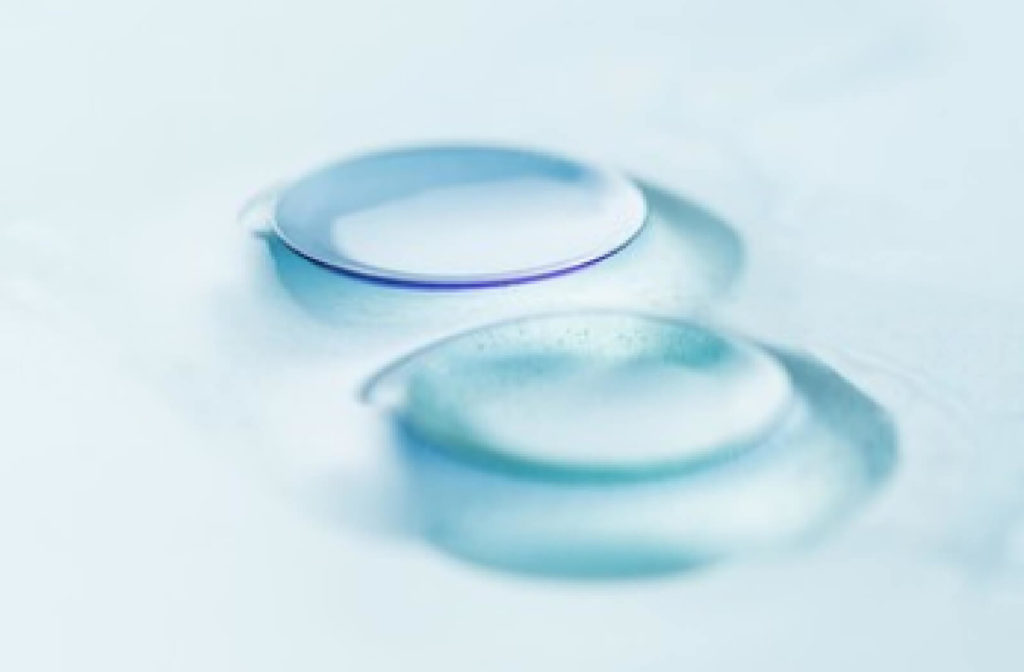 Avoiding Dry Eyes
Specialty Contacts for Dry Eyes
If you have dry eyes, your eye doctor may recommend using contacts that are made from a material that allows oxygen to pass through to your eye.
Rigid gas-permeable (RGP) lenses are made of harder plastics than soft contact lenses. They are oxygen-permeable, allowing air to pass through so your eyes can "breathe."
Scleral lenses are another option that can help with dry eye. Scleral lenses are larger in diameter (about 15–22 millimetres across) and vault over the cornea rather than sitting directly on it, resulting in a tear-filled space between the lens and the eye.
This fluid cushion protects the cornea from irritation, keeps the eyes hydrated, and has been shown to benefit many dry eye patients.
Proper Cleaning
In addition to using the right type of contacts, it's important to use the proper cleaning and disinfecting solutions for your contacts.
Some solutions can cause dryness, so it's important to use the ones recommended by your eye doctor and to follow the instructions on the label. Using the wrong solutions or not following the instructions can lead to irritation.
Artificial tears
Artificial tears can also help provide dry eye relief and keep your eyes hydrated. Be sure to use them according to the instructions on the label and only use them as directed by your eye doctor.
Give Your Eyes a Break
You can help reduce the amount of time your eyes are exposed to the drying effect of contacts by giving your eyes a break and switching to glasses for part of the day.
Avoid Dry Environments
Another thing to consider is the environment in which you wear your contacts. Dry, dusty, or windy environments can exacerbate dry eye symptoms, so it's important to protect your eyes in these conditions.
Protection can include wearing glasses or sunglasses to block out wind and dust, using a humidifier to add moisture to the air, and avoiding dry, air-conditioned environments as much as possible.
Dry Eye Relief at Foresee Eyecare
There are numerous methods for treating dry, red, irritated eyes even if you're a contact lens wearer. Book an appointment with us today to find your dry eye solution.