Yes, contact lenses do expire. During a contact lens fitting, you'll learn that wearing them past expiration can harm your eyes. Even unopened contacts can go bad when it's past their expiration date.
The expiration date of soft contact lenses is usually around 4 years from the date manufacturers package them, but the exact date can vary, so it's important to confirm the expiration for your specific contact lenses.
Types of Contact Lenses
There are 2 broad types of contact lenses: soft contact lenses and rigid gas-permeable (RGP) contact lenses, but there are other specialty contacts that can fall under these categories or in different categories as well.
The materials used for contacts and their packaging method can determine the different expiration dates for each type of contact lens.
Soft Contact Lenses
Manufacturers make soft contact lenses from flexible, water-absorbing materials that conform to the shape of your eye. They are typically designed to be more comfortable and easier to adapt to than RGP lenses.
Rigid Gas-Permeable/Scleral/Orthokeratology Contact Lenses
Rigid gas-permeable and specialty contact lenses are a type of contact lens made from a hard, durable plastic material that allows oxygen to pass through to the cornea.
RGP and specialty lenses sometimes have a longer shelf life than soft contact lenses, but both soft contacts and RGP lenses have different expiration considerations due to the different materials used to make them and their manufacturing process.
Soft vs. RGP/Specialty Contact Lens Expiration
Although RGP lenses tend to have a longer shelf life than soft lenses, checking the expiration date before using any contact lens is essential. Using expired lenses can lead to eye irritation, infection, and other complications.
Soft Contact Expiration
Soft contact lens packages are stamped with an expiration date and remain good through that specified month and year as long as the packaging stays intact.
The expiration date on soft contact lenses is typically around 4 years from the date of manufacture. After this time, the seal on the package can degrade, potentially exposing the sterile lens to contamination.
RGP/Scleral/Orthokeratology Lens Expiration
Rigid gas-permeable (RGP) contacts differ from soft lenses in that they are shipped dry from the manufacturer to the eye doctor. Gas-permeable lenses are also made-to-order and customized to the wearer's eye shape and prescription.
Due to these factors, there is no risk of RGP lenses becoming contaminated from being kept in a fluid-filled container for extended periods. As a result, gas-permeable contacts usually don't require an expiration date. Instead, you need to pay attention to the condition of RGP lenses and replace them when they start to wear down or no longer meet your vision needs. Ask your Optometrist or eye care provider on their recommendations on routine replacement of RGP lenses as wear and tear, and scratches can occur time.
For Scleral and Orthokeratology lenses, given their specialty use and purpose, it is best to consult with your Optometrist on the condition and replacement schedule as these lenses are used in a different manner than typical contact lenses.
Contact Lens Prescription Expiration
The expiration date on your contact lens prescription represents the last date new contacts can be made using that prescription.
It's important to know that generally, contact lens prescriptions expire in 1–2 years, and the Canadian Association of Optometrists recommends that the expiry date for all optical prescriptions be no longer than 2 years.
Contact lens wearers need routine contact exams and fittings to confirm their eyes are healthy and their contacts are continuing to meet their vision needs.
Is Wearing Expired Contact Lenses Dangerous?
Wearing expired contact lenses can be dangerous to your eye health. Over time, the materials in the lenses can break down, leading to a change in the lens shape or an increased risk of contamination.
Wearing expired lenses can cause eye irritation, infections, or even more severe complications, such as corneal ulcers.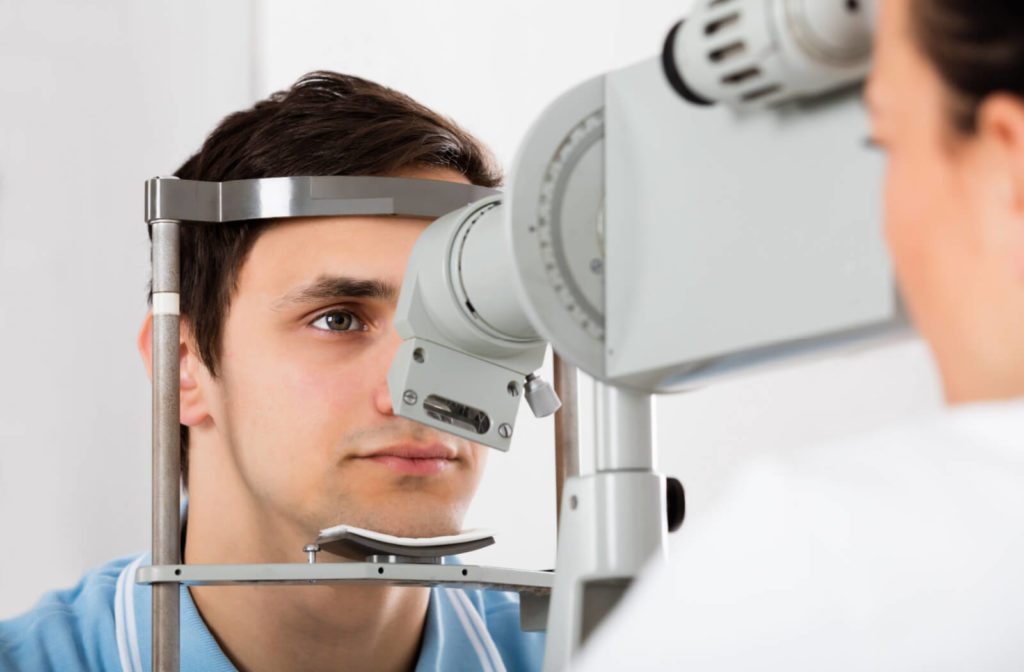 How to Care for Your Contact Lenses
Proper care of your contact lenses is essential for maintaining their quality and supporting your eye health. Following these guidelines can help extend the life of your contact lenses and protect your eyes from potential harm.
Always wash your hands before handling your contact lenses: Washing your hands with soap and water can help remove dirt, bacteria, and other contaminants that may harm your eyes or damage your lenses. Dry your hands with a lint-free towel to prevent transferring lint onto your lenses.
Clean and disinfect your lenses daily with a recommended contact lens solution: Using a contact lens solution approved by your optometrist can help remove protein deposits, bacteria, and other debris from your lenses. Follow the manufacturer's instructions and your eye care professional's advice regarding proper cleaning and disinfecting procedures.
Follow the recommended replacement schedule for your specific type of lenses (such as daily, weekly, or monthly): Adhering to the replacement schedule recommended by your eye care professional can help with lens performance and reduce the risk of complications associated with contact lens wear.
Never use water to clean your contacts, as this can introduce harmful bacteria and cause discomfort: Water can cause soft contact lenses to swell, change shape, and stick to the eye, resulting in discomfort and potentially scratching the cornea. Furthermore, some water sources are not germ-free and contain bacteria and microorganisms that can lead to eye infections.
Avoid sleeping in your contact lenses unless they are specifically designed for overnight wear: Sleeping in contact lenses not intended for extended wear can increase your risk of eye infections, corneal ulcers, and other complications.
Schedule regular eye exams to make sure your prescription is up-to-date and to monitor your eye health: Regular eye exams allow your optometrist to detect changes in your vision and eye health and can help confirm your contact lens prescription remains accurate and appropriate for your needs.
Prioritize Your Eye Health & Contact Lens Care
The team at Foresee Eyecare is dedicated to providing you with great eye care solutions, including helping you understand the importance of contact lens expiration dates.
Our knowledgeable staff can use modern technology to guide you through the entire process of selecting and maintaining your contact lenses. Trust us to prioritize your eye health and provide customized solutions to your needs. Schedule your appointment today!