Myopia is one of the most common vision problems in the world. It usually appears early in life and can progress and worsen over time.
If you're a parent, you know that your child's vision is one of the most important things to keep an eye on (pun intended). How can you help slow the progression of myopia (nearsightedness) in your child?
Thankfully, there are many options available to you to help slow the progression of myopia. This includes things you and your child can do at home like:
Spending more time outdoors
Making sure your child eats well
Taking breaks from close-up work
Options available with the help of your optometrist include:
Regular eye exams
Wearing the right eyewear
What Is Myopia?
Myopia, or nearsightedness, is a common condition that affects many people around the world. It occurs when the eye grows too long from front to back or the cornea becomes too steep, causing light to focus in front of the retina instead of on it. This can make it difficult for people with myopia to see things that are far away, but objects up close may appear clear.
Myopia typically develops during childhood and adolescence and tends to progress as the child grows. This can lead to worsening vision over time, and it can also increase the risk of other eye problems later in life, such as glaucoma and retinal detachment.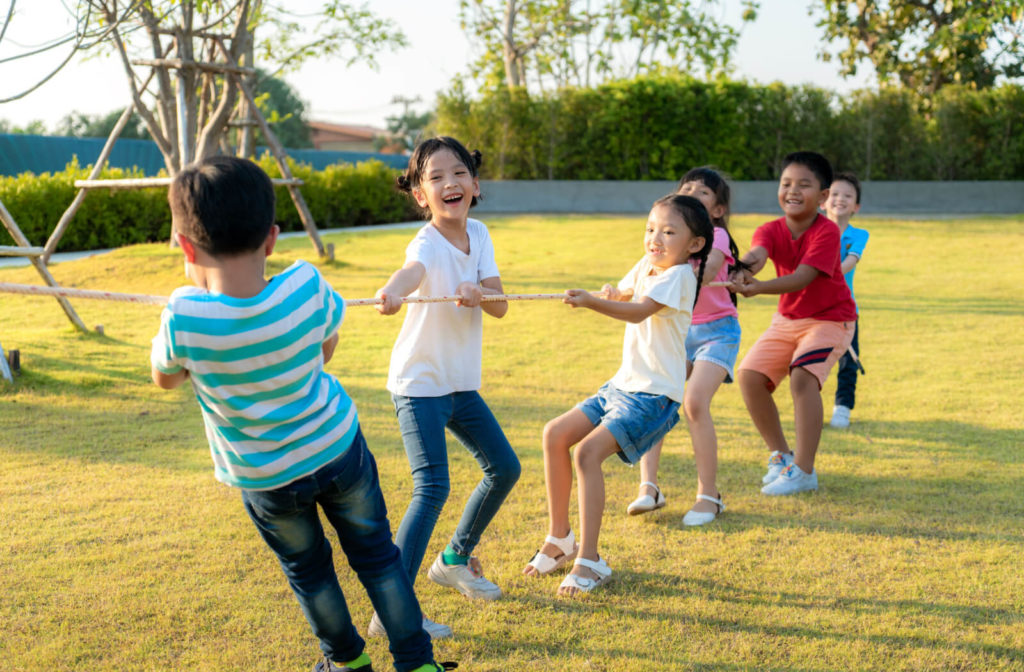 How to Slow Your Child's Myopia Progression
Spend More Time Outside
Encourage your child to spend a few hours per day outdoors. Research has shown that spending time outdoors can help slow the progression of myopia in children. This is thought to be because the bright light outdoors helps the eye focus more effectively. In the sun, it's important to wear sunglasses to protect your child's eyes against harmful UV radiation.
Make Sure Your Child Eats Well
It's important to remember that good nutrition is crucial for eye health. Encourage your child to eat a balanced diet that includes plenty of fruits, vegetables, and other healthy foods. These foods contain essential nutrients that can support healthy eye growth and development.
Take Breaks from Close-Up Work
Encourage good reading habits. Close-up work like reading and screen time can contribute to the progression of myopia. Encourage your child to take regular breaks when reading, and to try to avoid reading in dim light. This can help to reduce strain on the eyes and slow the progression of myopia.
Regular Eye Exams
Another important step you can take is to make sure your child gets regular eye exams. These exams can help detect myopia early on, and your eye doctor can provide you with recommendations on how to slow its progression.
This may include prescribing glasses or contact lenses that can help correct your child's vision and slow myopia progression.
Wear the Right Eyewear
If your child has been prescribed glasses or contact lenses to correct their myopia, it's important that they wear them as prescribed. This can help to ensure that their eyes are receiving the right amount of correction, which can help to slow the progression of the condition.
SightGlass Vision
Foresee Eyecare is excited to be a part of the SightGlass Vision Diffusion Optics Technology pilot program.
SightGlass Vision is a company that has developed a unique approach to myopia control. Their technology uses specialized lenses and optical techniques to gently reshape the eye's natural curvature, helping to slow the progression of myopia.
This can provide significant benefits to patients, including a reduced need for glasses or contacts, improved visual acuity, and a reduced risk of developing other eye conditions associated with myopia, such as glaucoma or retinal detachment.
One of the key advantages of SightGlass Vision's myopia control technology is its flexibility. The lenses can be customized to each patient's needs, and they can be adjusted over time as the child's eyes change.
This means that patients can continue to enjoy the benefits of myopia control even as their eyesight changes, providing a long-term solution to this common vision problem.
Orthokeratology
Orthokeratology (ortho-k) lenses are an example of contact lenses used to help slow the progression of myopia. These lenses gently reshape your child's eyes while they sleep.
Wearing ortho-k lenses may only temporarily improve vision. When the lenses are removed for the day, the cornea gradually returns to its original shape, causing myopia symptoms to reappear.
MiSight
The MiSight 1 day soft contacts are intended for children aged 8–12. The dual-focus optical design of this daily-disposable soft contact lens provides your child with clear vision while also signalling the eye to slow down its growth.
Myopia Management at Foresee Eyecare
There are several steps you can take to help slow myopia progression in your child, both at home and with the help of your trusted optometrist.
If you have any questions about how to help slow your child's myopia progression, please reach out to our team or book an appointment. We can help determine the best-possible options for your child so they're comfortable and confident with their vision!