Experiencing dry eyes and headaches simultaneously is not an uncommon occurrence. However, while these 2 conditions often coexist, there isn't concrete evidence to suggest that one directly causes the other. Dry eyes and headaches share common triggers, but the presence of one does not necessarily induce the other.
Scheduling routine eye exams can help manage both conditions. These examinations allow your eye doctor to assess your vision carefully and proactively offer dry eye therapy solutions or an updated glasses prescription to alleviate your symptoms.
What Is Dry Eye Syndrome?
Dry eye syndrome arises when there's an imbalance in the tear system of the eyes. It can occur in 2 ways: either the eyes fail to produce sufficient tears, or the tears produced lack the correct chemical composition.
The eye surface is constantly bathed in a protective layer of tears called the tear film. The tear film is essential for maintaining eye health and providing clear vision. However, when compromised or the chemical structure is altered, it results in dry eye syndrome.
This disruption in the tear film can lead to discomfort, blurred vision, and other irritating symptoms. Understanding this condition is crucial, as it forms the basis for effective treatment and management strategies.
Symptoms of Dry Eyes
Dry eyes can manifest with a variety of symptoms:
Causes of Dry Eyes
Dry eye syndrome can be attributed to myriad factors, each contributing in its own ways. Grasping these various causes is crucial to effectively managing and mitigating the effects of dry eyes:
Aging: Tear production typically slows as we age. Dry eyes affect most individuals 65 and over.
Gender: Hormonal changes due to pregnancy, menopause, or oral contraceptives make women more prone to developing dry eyes.
Medications: Certain drugs, such as antihistamines, decongestants, blood pressure medications, and antidepressants, can reduce tear production.
Existing health conditions: Medical conditions like rheumatoid arthritis, diabetes, and thyroid issues have ocular side effects. Eyelid inflammation (blepharitis), surface eye inflammation, or misalignment of eyelids can also trigger dry eyes.
Environmental factors: Exposure to specific environmental conditions such as smoke, wind, and dry climates can enhance tear evaporation, resulting in dry eye symptoms. Activities that reduce blink frequency, like prolonged computer use, can also contribute to eye dryness.
Additional factors: Prolonged contact lens use and refractive eye surgeries like LASIK may interfere with tear production, contributing to dry eyes.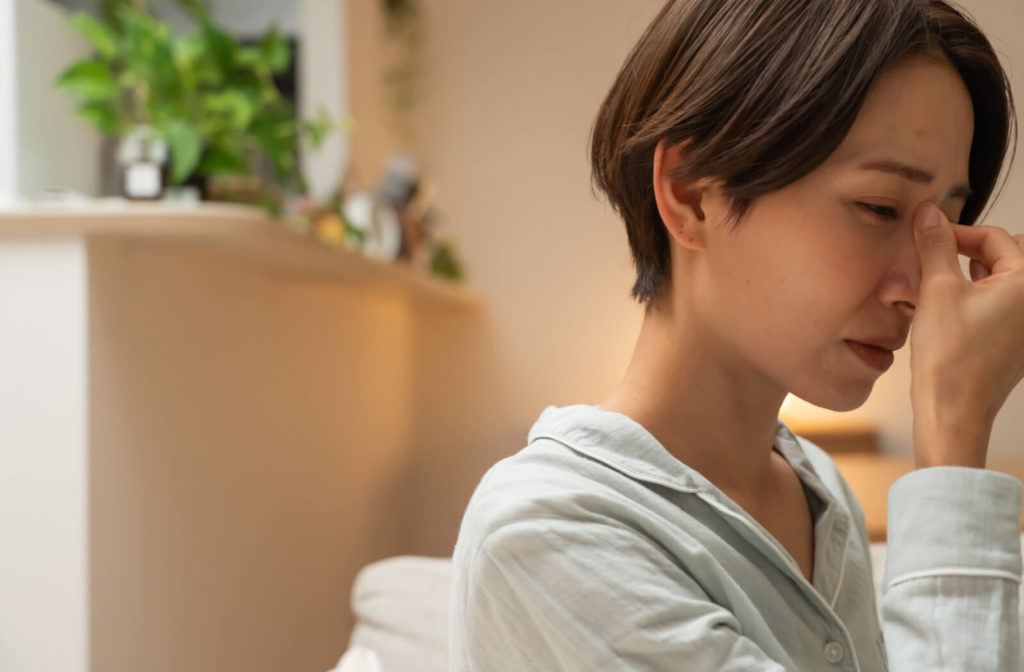 The Relationship Between Dry Eyes & Headaches
Understanding the connection between dry eyes and headaches can be complex, as these 2 conditions can influence each other in various ways. Here are some key points to consider:
Regularly scheduled eye exams can help manage headaches and dry eyes. During a comprehensive eye exam, your optometrist can assess your vision and offer dry eye therapy solutions to alleviate symptoms, potentially reducing the frequency or severity of related headaches.
Treatments to Address Dry Eyes
Foresee Eyecare provides comprehensive solutions for the persistent issue of dry eye syndrome, offering a variety of treatments besides mainstay preservative free artificial tears that is customized to individual patient requirements:
MiBo Thermoflo is a therapeutic device that provides a safe and effective solution to dry eyes. It uses mild heat to dissolve hardened lipids and oils in the eyelid glands, delivering a deep, gentle massage via an ultrasound gel-covered device.
Omega-3 fatty acids are known to support healthy vision and are available as supplements at Foresee Eyecare. These powerful nutrients in fish oil are stocked as high-quality PRN Omega-3 supplements.
Bruder moist heat eye compress is a natural remedy for dry eye symptoms. These masks use patented MediBeads that constantly absorb and store water molecules from the air. When heated, they convert the absorbed water into soothing, moist heat, helping unclog the meibomian glands (oil-producing glands), slowing tear evaporation and providing immediate relief.
Intense pulsed light (IPL) treatments have been approved to treat meibomian gland dysfunction (MGD) and dry eye syndrome. These strategically placed light pulses target inflammation, breaking down hardened oils and unblocking the meibomian glands.
Radiofrequency (RF) laser treatments can help alleviate dry eye symptoms and treat MGD, a leading cause of dry eyes.
Zocular Eyelid System Treatment (ZEST) is designed to aid in eyelid debridement and relieve dry eye symptoms. ZEST works like a deep eyelid shampoo, eliminating bacteria and debris through gentle exfoliation.
Address Your Dry Eye & Headache Concerns Today
Understanding the causes and symptoms of dry eyes is the first step toward finding relief. If you're experiencing symptoms such as persistent eye dryness or irritation and headaches, it may be time to seek professional help. Remember, increased screentime or activities at a fixed visual distance (eg reading/watching TV) for long periods of time without breaks may lead to BOTH dry eyes and headaches!
At Foresee Eyecare, we're dedicated to helping you maintain clear vision and healthy eyes. Our eye doctors, Dr. Timothy Tsang and Dr. Miranda Mok, are devoted to addressing the needs of their patients with attentive and thorough care.
We invite you to book an appointment today. Don't let dry eyes and headaches hold you back from enjoying life.